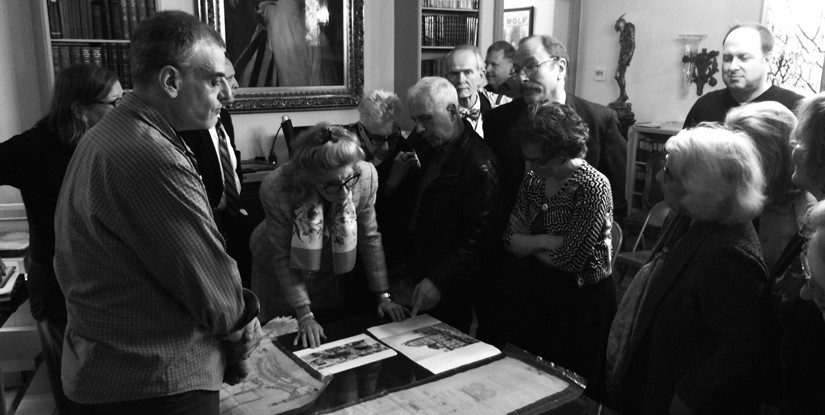 The Stewardship Society consists of our most devoted benefactors who annually contribute $500 or more. Our Stewards are honored with a series of unique tours of archival treasures at collections throughout New York City.
Because our work could not be done without our generous donors, the Stewardship Society was created to celebrate these supporters with a series of special tours at institutional archives and private collections throughout New York City. Since its launch in 2011, the Society has held private viewings of archival treasures at such locations as Carnegie Hall, the Explorers Club, the Park Avenue Armory, and the Grand Masonic Lodge of New York. We hope you will consider becoming a Steward of the New York Preservation Archive Project and thus a steward of the history of New York City's preservation movement. To join the Society, please donate via this page. Or please contact us with any questions.
Latest Stewardship Society Event
Tour of the United Nations Headquarters
For our latest event, the Stewardship Society walked in the footsteps of the world's greatest leaders during a private tour of the United Nations Headquarters.
Designed in the 1940s by the most renowned international architects of the day, these remarkable modernist buildings house the intergovernmental organization with the substantial mission of promoting international cooperation. The complex recently underwent a meticulous $1 billion interior and exterior renovation. Because of the institution's vast archives, original colors and materials could be reinstated, and many of the fixtures and furnishings have been returned to the look they had when the building first opened.
Led by Werner Schmidt, from the Office of the Under-Secretary-General for Management of the United Nations Headquarters, the tour explored the history, architecture, and interiors of the complex in the context of the renovation, which was just completed last year.
After the tour the group enjoyed a reception at the Ambassador Grill & Lounge, a stunning mid-1970s space that was recently calendared for landmark designation by the New York City Landmarks Preservation Commission after the eatery was seemingly threatened. 
Join now for access to future Stewardship Society tours!