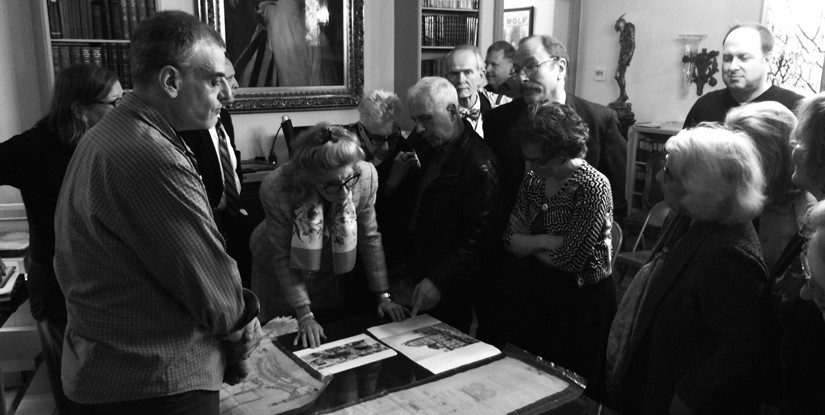 The Stewardship Society consists of our most devoted benefactors who annually contribute $500 or more. Our Stewards are honored with a series of unique tours of archival treasures at collections throughout New York City.
Because our work could not be done without our generous donors, the Stewardship Society was created to celebrate these supporters with a series of special tours at institutional archives and private collections throughout New York City. Since its launch in 2011, the Society has held private viewings of archival treasures at such locations as Carnegie Hall, the Explorers Club, the Park Avenue Armory, and the Grand Masonic Lodge of New York. We hope you will consider becoming a Steward of the New York Preservation Archive Project and thus a steward of the history of New York City's preservation movement. To join the Society, please donate via this page. Or please contact us with any questions.
Latest Stewardship Society Event
Tour of the NYC Archaeological Repository
The Stewardship Society's latest tour explored the unearthed past of New York City with a visit to the NYC Archaeological Repository at the Nan A. Rothschild Research Center.
This repository houses hundreds of thousands of artifacts from over 31 sites throughout New York City, ranging from 17th-century New Amsterdam wine bottles to 19th-century passenger pigeon bones. Opened in 2014, the repository is a project of the Archaeology Department of the New York City Landmarks Preservation Commission. Its purpose is to preserve and curate the City's archaeological collections and make them accessible to archaeologists, researchers, teachers, students, and the public.
After the tour the group retired for a glass of wine at Sardi's, the Theater District institution that is celebrating its 90th anniversary this year.
Join the Stewardship Society today for access to future tours!