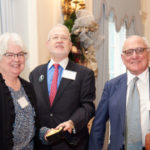 2017 Bard Birthday Breakfast Benefit: A Look Back At Our Annual Event Honoring Preservation Supporters
June 1, 2018 | NYPAP

Janet S. Parks and the Durst Family received well-earned applause in the ballroom of New York City's landmarked Yale Club as they accepted Preservation Awards presented by the Archive Project at the 2017 Bard Birthday Breakfast Benefit.
Parks, former Curator of Drawings and Archives at Columbia University's Avery Architectural & Fine Arts Library, spent 36 years supporting preservation by assisting architects and preservationists. During her tenure, the Library made more than 650 acquisitions.
The Durst Family was honored for its support of the Seymour B. Durst Old York Library Collection at the Avery Architectural & Fine Arts Library and its support of the NYC Archaeological Repository.
The presentation of the awards served as the highlight of the annual celebration designed to commemorate the birth of Albert Sprague Bard, the chief force behind state authorizing legislation that permitted enactment of New York City's Landmarks Law.
A large crowd gathered on the morning of December 19, 2017 for the gala breakfast. The festivities opened with an introduction by Anthony C. Wood, Archive Project Chair, as well as a poem.
As the awards were presented, a number of familiar figures took to the stage including architect Robert A.M. Stern. A previous recipient of the Preservation Award, Stern introduced Janet Parks. Amy Freitag, a member of the Archive Project's board of directors, introduced the Durst family.
Helena Durst spoke for the Durst family in accepting the award, and Parks spoke on her own behalf. The day's featured speaker, Kate Ascher, author of The Works: Anatomy of a City, highlighted the use of archives and archival research following an introduction by Adrian Benepe.
Lisa Ackerman, secretary of the Archive Project, closed the morning's program by thanking outgoing executive director Matthew Coody for his years of fine service. Coody served with the Archive Project in a part-time capacity initially, later transitioning to a full-time executive director role. He has since joined the Historic House Trust as its director of development. Coody continues to advise the Archive Project, and he has agreed to join the board of the Archive Project, likely during the course of the summer of 2018.
The Archive Project would like to thank its generous Benefit Co-Chairs:
Lisa Ackerman, Dan Allen of CT Architects P.C., Anthony Badalamenti, Kent Diebolt of Vertical Access LLC, The Durst Organization, Andrea Henderson Fahnestock, Amy Freitag, The Green-Wood Cemetery, Elizabeth R. & Robert A. Jeffe, Anne Kriken Mann, Gina Pollara, Jack Taylor, Arete Warren, Duane A. Watson, Anthony C. Wood