Archive Project Gets "Zooming" During Pandemic
Multiple Virtual O erings Launched, Hundreds Participate
"Let me unmute you." is strange phrase, once reserved for obscure settings, has catapulted to mainstream prominence during the COVID-19 pandemic as masses of people continue to take to Zoom for virtual programming. Amidst the fluid situation with millions of people subject to lockdown in New York City, the Archive Project launched multiple ways to interact remotely. As this newsletter goes to press, fans and supporters of the Archive Project can join a weekly Coffee Break Chat at 3:45 pm on Wednesday or a NYPAPy Hour each Friday at 5:45 pm. The programs feature Archive Project board members, authors, architectural historians, and preservationists in conversation about everything from the legacy of preservationist Margot Gayle to the history of Brooklyn architect Montrose Morris. Additional educational offerings, sponsored by the A. Ottavino Corp., on conducting oral histories and saving papers have also been well-attended.
"It's a bit of a sudden Wild West to gure out—and we're certainly working things out as we go," Executive Director Brad Vogel said with a laugh. "But it's been exhilarating to create a new and somewhat casual sense of community online, especially during these trying times when people are craving connection. Plus, we have a chance to lift up our extensive body of preservation history and bring in some remarkable voices to bring it to life."
Above: One of the Archive Project's virtual Zoom programs underway in April 2020 amidst the pandemic. Executive Director Brad Vogel, architectural historian Suzanne Spellen, and Archive Project board member Susan De Vries discuss the work of Brooklyn architect Montrose Morris in the rst NYPAPy Hour, sponsored by JHP Associates. | Photo: Brad Vogel
To ensure that you are staying abreast of the Archive Project's Zoom o erings, be sure to sign up for e-updates at www.nypap.org. You are invited to join the hundreds of people who have enjoyed the programming to date.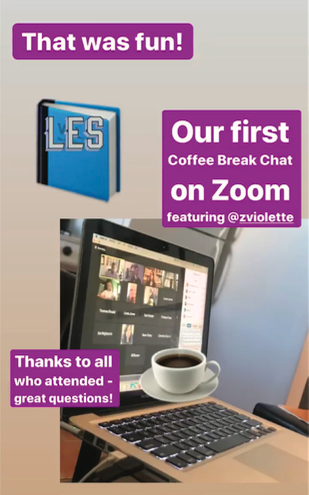 Above: Led from a laptop perched on a chair in an apartment kitchen, the Archive Project's rst Co ee Break Chat featured author Zachary Violette. CTA Architects sponsored the Co ee Break Chats. | Courtesy the Archive Project
Visit our online library and YouTube channel for recordings of our inaugural Zoom programming:
Coffee Break Chat (3:45 pm) – Zachary Violette and Brad Vogel on the book e Decorated Tenement: How Immigrant Builders and Architects Transformed the Slum April 22
Coffee Break Chat (3:45 pm) – Francis Morrone with Brad Vogel on Henry Hope Reed April 29
Coffee Break Chat (3:45 pm) – Patrick Ciccone with Brad Vogel on the book Bricks & Brownstone May 6
NYPAPy Hour (5:45 pm) – Suzanne Spellen & Susan De Vries on Brooklyn Architect Montrose Morris. May 8
Coffee Break Chat (3:45 pm): Anthony W. Robins on Margot Gayle and Cast-Iron with special guest Yuki Ohta May 13
NYPAPy Hour (5:45 pm): Paul Lozito and Chuck Hovanic on Clay Avenue in the Bronx May 15
Oral History Training (6 pm): Oral Historian Sarah Dziedzic May 18
Coffee Break Chat (3:45 pm): Otis and Nancy Pearsall with Anthony C. Wood on preservationist Clay Lancaster May 20
NYPAPy Hour (5:45 pm): Re-envisioning Morris-Jumel Mansion with Matthew Coody & Shiloh Holley *Welcome Columns Club & Young Georgians! May 22
Coffee Break Chat (3:45 pm): John Freeman Gill in conversation with Gina Pollara on his book e Gargoyle Hunters May 27
NYPAPy Hour (5:45 pm): Mary Habstritt, Nathan Kensinger, & Tom Rinaldi on Waterfront Industrial Preservation in NYC (or the lack thereof ) May 29
Coffee Break Chat (3:45 pm): Hailing Halina Rosenthal with Anthony C. Wood & Friends June 3