Saving 227 Duffield Street A Symbol of Freedom
July 12, 2021

By Pamela Wong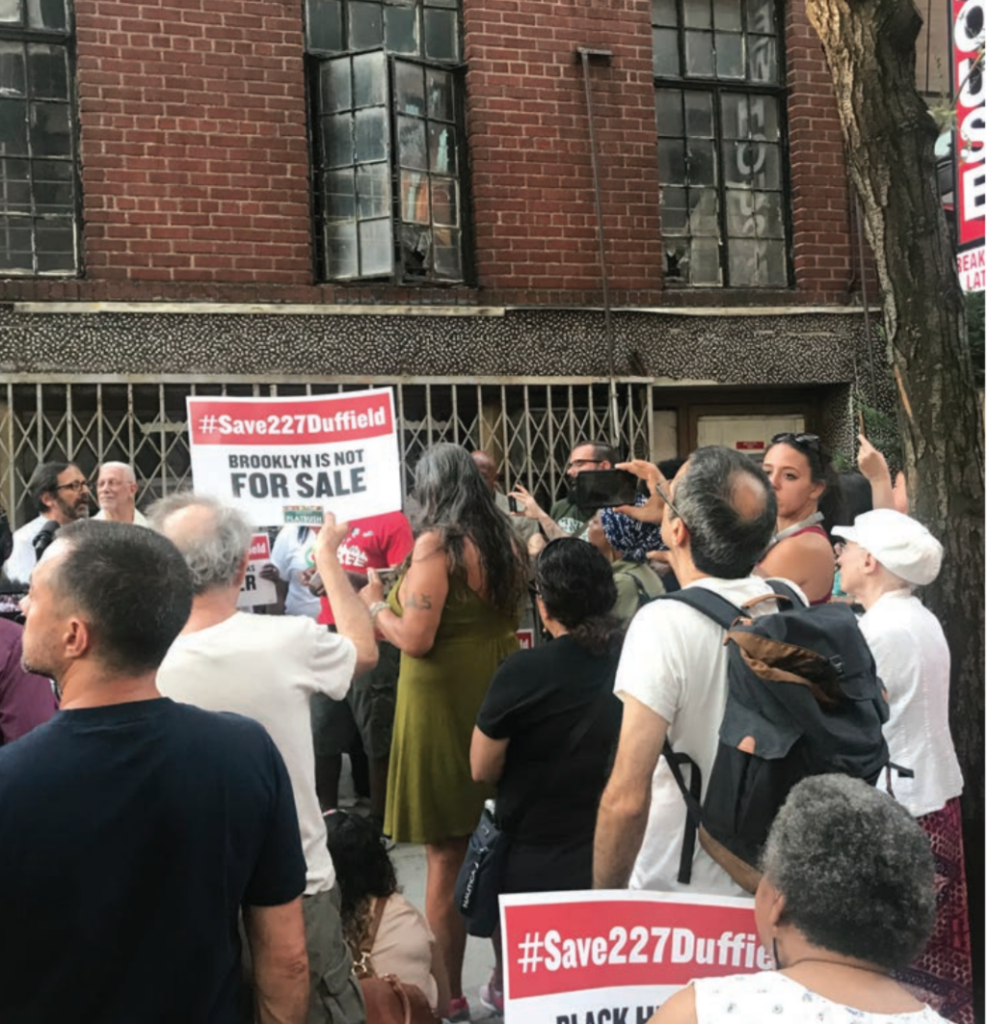 The years-long fight to save 277 Duffield Street, a 19th-century row house that embodies Brooklyn's anti-slavery movement, has finally reached a happy conclusion thanks to the unwavering efforts of community activists determined to save this relic of African-American history.
In a unanimous vote on February 2, 2021, The New York Landmarks Preservation Committee (LPC) designated 277 Abolitionist Place, as it is now known, as an individual City landmark. The landmark status prohibits developers from demolishing or altering the building without LPC approval. And a month later, the City of New York purchased the building for $3.2 million, further protecting the structure and securing its legacy.
The long effort to designate 227 Duffield Street gained significant momentum during the Black Lives Matter activism of June 2020, and landmark designation stands as a product of that movement. "During this time of national reckoning over the legacy of slavery and continued injustice faced by Black communities, maintaining that piece of history is critical in remembering how far we've come and how far we still must go," New York Attorney General Letitia James said in a statement following the designation, which is the most recent chapter in the long saga of 227 Duffield Street.
The History of 227 Duffield Street
A three-story brick Greek Revival row house on a block between Fulton and Willoughby Streets in Downtown Brooklyn, 227 Duffield Street was built between 1848 and 1851. That year, a married abolitionist couple from Rhode Island purchased the home. Thomas Truesdell was a founding member of the Rhode Island Anti-Slavery Society. His wife, Harriet, was a member of the Providence Ladies Anti-Slavery Society and helped organize the 1838 Anti-Slavery Convention of American Women in Philadelphia. The Truesdells were hardly an anomaly in their new neighborhood—Brooklyn was a hub of abolitionist activity in the years preceding the Civil War. The downtown area was home to several anti-slavery activists as well as multiple Underground Railroad stops that took in fugitive slaves headed to upstate New York, New England, and Canada. Locals involved in the efforts to save 227 Duffield Street believe that tunnels beneath the Truesdells' house and neighboring properties provided a temporary haven for slaves fleeing the South. However, the LPC designation report acknowledges that it is "difficult to document or verify" an Underground Railroad connection.
227 Duffield Street remained in the Truesdell family until 1921. While the building has undergone various alterations, including a commercial extension and the removal of front and rear porches, preservationists contend that the building retains its 19thcentury form and maintains a pivotal place in Brooklyn's anti-slavery past.
The Battle Against New York City
Early in the first decade of this century, Downtown Brooklyn was populated by a multitude of African-American and immigrant-owned businesses. "It was not at all gentrified, but it was packed," recalls Raul Rothblatt, who has campaigned for nearly twenty years to save 227 Duffield Street. The City, meanwhile, was planning to acquire properties on Duffield Street via eminent domain as part of Downtown Brooklyn Rezoning, the plan by the Bloomberg Administration and the NYC Economic Development Corporation to revitalize the area with commercial towers and hotels. In January 2004, several Duffield Street residents found notices posted to their doors stating that their homes would be acquired to make way for Willoughby Square Park and an underground parking garage, according to Rothblatt. Duffield Street homeowners objected, stating that abolitionists once lived in these houses and slaves fleeing the South were temporarily sheltered here.
One of the protesting homeowners was Joy Chatel, who moved to 227 Duffield Street in 1987 after marrying Albert Chatel, whose family had owned the building since 1948. "Mama Joy," as she was affectionately known, (see her profile on the Archive Project website), insisted that there were sealed tunnels in her basement that once connected her home to those of her neighbors. There was also a low archway in her sub-basement that she believed led to passageways used by fugitive slaves. Along with running a hair salon at 227 Duffield, Chatel used her home as a community center, hosting performances by African drumming circles and dance troupes. After Albert's death in 1996, she offered tours of the basement to visitors. Her dream was to preserve the building's legacy by turning it into a museum.
Raul Rothblatt met Mama Joy in 2014 while protesting the use of eminent domain in the Atlantic Yards development. He visited 227 Duffield many times and confirms evidence of "connections between the buildings that had been filled in a century earlier." An 1885 map produced by the civil engineer William Perris also indicates links beneath the Duffield Street homes. "It's not that unusual to have buildings that were connected," Rothblatt notes. However, locating written evidence for the tunnel's use has proved elusive. As Historic Districts Council Executive Director Simeon Bankoff notes, "To my recollection, nobody ever conclusively proved that the house served as a station on the Underground Railroad."
The environmental review phase of Downtown Brooklyn Rezoning began in 2003. As Bankoff observes, it is during this phase of analysis that "people really start getting agitated." EDC hired the firm AKRF to prepare the Draft Environmental Impact Statement, according to Village Views, Volume X, No. 1. A subsequent 2006 article by Village Views editors Christabel Gough, Ron Kopnicki, and Matt McGhee, published by the Cityscape Foundation and the Society for the Architecture of the City, details the Duffield Street residents' fight against the use of eminent domain. Chatel and her neighbors testified during the public hearings for the Environmental Impact Study, insisting that their historic houses should be spared given the oral history connecting them to the Underground Railroad.
Underground Railroad Connection Debated
The fight over the environmental review led to further study of the block. The New York City Council requested a "supplemental study of the Duffield Street houses and their association with the Underground Railroad," according to Village Views editors. EDC once again hired AKRF to conduct this study consisting of peer reviews and oral histories. Some of the homeowners interviewed for the study described the process as "rushed and manipulative," the article states. AKRF determined that "no documentable association" to the Underground Railroad was found at 227 Duffield Street or the neighboring buildings, adding "the potential existence of tunnels under the buildings and any corroborating artifacts could not be ascertained without further testing." Opponents of the conclusion of the AKRF study stressed how unlikely it would have been for anyone taking part in the Underground Railroad to document their dangerous and secretive involvement. "After the passage of the Fugitive Slave Act of 1850, participating in Underground Railroad activities was illegal, so no one kept records," Bankoff explained. By way of comparison, Bankoff referred to the status of the HopperGibbons House in Chelsea, the only documented Underground Railroad stop in Manhattan. A letter written by a friend of the Gibbons, Joseph Hodges Choate, provided verification of the property's Underground Railroad roots because Choate mentions meeting an escaped slave at the Gibbons home.
In spite of the fact that the AKRF concluded that there was not sufficient evidence of any Underground Railroad activity to save the Duffield Street properties, several of the peer reviewers believed the site to be an important one that should be saved, according to Rothblatt. Dr. Judith Wellman, a historian specializing in the Underground Railroad, stated that the AKRF findings "suggest a clear possibility" that the Truesdells "may have been involved in the Underground Railroad."
Mama Joy's Civic Fight
Joy Chatel did not back down. She organized rallies and several events at 227 Duffield to bring attention to the fight. "We did so much," Rothblatt remembers. "We had Hakeem Jeffries and Tish James speaking in the backyard." (Letitia James is now New York Attorney General; in 2004, she was a newly elected member of the City Council.) Other elected officials joined the fight along with numerous organizations such as the Four Borough Neighborhood Preservation Alliance, of which Chatel was a member, the HDC, and the New York Landmarks Conservancy to pressure LPC Chair Robert Tierney to landmark 227, 231, and 233 Duffield Street. In 2007, Tierney suggested memorializing the Duffield block with a plaque instead. A separate bid to save 227 Duffield also fell through that same year when historian Richard Hourahan's application to add the house to the National Register was rejected. Chatel and FUREE (Families United for Racial and Economic Equality) ultimately filed a lawsuit against the City in 2007. Represented by South Brooklyn Legal Services, the plaintiffs accused the City of not thoroughly investigating the history of the Duffield Street homes and omitting key information from the AKRF study.
All was not lost, however. In November, the City settled with Chatel and FUREE and agreed to exclude 227 Duffield from its development plans, but Mama Joy's neighbors were not so fortunate. Their homes were eventually razed. As Rothblatt notes, "[The City] didn't have to destroy all these buildings. It was heart-wrenching to see what they did." Just previously, in September, the City Council passed a bill co-sponsored by Letitia James co-naming Duffield Street, between Willoughby and Fulton Streets, "Abolitionist Place." After saving 227 Duffield from demolition, Chatel and a small team, including Rothblatt, attempted to maintain the building as a museum. "We tried to keep it going, but we didn't really have a good [organizational] structure," Rothblatt recalls. Chatel's health also began to decline, and she died in January 2014 at the age of 67.
227 Abolitionist Place Threatened Again
Mama Joy had led a successful effort but the threats she faced were only the first wave in a series of challenges. More than a decade later, a new developer was eyeing 227 Duffield. This was an unexpected turn of events. As Rothblatt notes, "We didn't expect that some other developer would come in. We weren't prepared for it." In 2004, Chatel had signed the deed to her home over to her mother, according to Brownstoner, and the following year, she sold a fifty-percent stake in the property to an investor. Ten years later, Samiel Hansab, a developer, bought both the investor's and the family's shares. Hence, the home that Joy Chatel fought so hard to preserve was once again in peril. In June 2019, the NYC Department of Buildings issued a permit for Hansab to demolish 227 Abolitionist Place, as reported by the Brooklyn Daily Eagle.
New Allies Join the Battle
In early 2019 Aleah Bacquie Vaughn, Executive Director of Circle for Justice Innovations (CJI), first noticed 227 Abolitionist Place while walking to work. Remnants from Mama Joy's time at the building caught her eye. Bacquie Vaughn recalls a picture of Harriet Tubman and a "map of this whole street and the area around it [that] identified all these homes occupied by abolitionists. I was really intrigued and I looked it up and found that Thomas and Harriet Truesdell had lived there. Then I did more research and found there had been a major fight for this house to be saved from demolition." Just a few months following her discovery of the house, Bacquie Vaughn noticed an "order to vacate" sign on the front of the building. "I thought, that means they're probably going to try to demolish it." I then began to contact the organizations that had been cited in some of the [earlier] work," including FUREE and Equality for Flatbush. Bacquie Vaughn was surprised to have found that "the crazy thing about it is [many of] those people who fought all those years before with Mama Joy thought it was already landmarked."
Although Mama Joy was no longer present to protect 227 Abolitionist Place, this time around Rothblatt had new allies whose social justice and anti-gentrification causes aligned with the fight to save a symbol of Brooklyn's anti-slavery history. In explaining why CJI joined the fight, Bacquie Vaughn said, "All the roots of the current system that we have—which is based on racism, on punishment, on control of the labor market, on all these various issues of injustice—are supported by slavery, and they were created at the end of slavery in order to continue to control the population of mostly Black, but also brown, people. What we're living with right now is our failure to reckon with what happened then."
CJI and Equality for Flatbush wrote letters to the LPC requesting that the agency calendar 227 Abolitionist Place for landmark consideration. The groups also organized rallies on Abolitionist Place as well as in front of the LPC offices in Manhattan. When the LPC refused to calendar the site, the next step was to contact Mayor Bill de Blasio's wife, Chirlane McCray, as well as Letitia James. In July 2019 CJI launched a petition calling on the LPC to designate 227 Abolitionist Place an individual landmark. The petition garnered more than 17,000 signatures. "It was incredibly uplifting and inspiring to have so many new people get involved. They really got things going again," Rothblatt observed of these supporters.
News about 227 Abolitionist Place soon reached City Hall and the de Blasio administration requested that the LPC consider the building for landmark designation. In late spring of 2020, the LPC conducted additional research about the site and scheduled a hearing, citing its "rarity as a long-time home of notable abolitionists Harriet and Thomas Truesdell" and its alignment with "LPC goals of telling the stories of all New Yorkers." The hearing took place on July 14, 2020, and received more than 70 letters supporting landmark designation. In addition, 45 speakers appeared via Zoom, including Rothblatt, Bankoff, and Attorney General Letitia James to testify in favor of designating 227 Abolitionist Place. The only opposition came from the developer's attorney.
Bacquie Vaughn hopes that Mama Joy's dream of transforming 227 Abolitionist Place into a museum will be realized. "[The staff of] those same hotels that are stationed there should learn about the history of that area," she observed. "People think it's just the building, but it's really the whole area. It was a hotbed of abolitionist activity." Protests last summer calling for a reexamination of American history and the removal of monuments honoring slave traffickers and Confederate leaders affirm the urgency to save this icon of Black and abolitionist history. "If you don't deal with the roots of what is causing us to do what we're doing to one another, because of race, because of background and history, then you're going to repeat it," said Bacquie Vaughn.