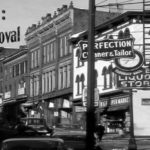 Lost Rondout: A Story of Urban Removal
April 11, 2018
6:30 p.m.
BronxArtSpace
How did urban renewal projects in the middle of the 20th Century impact historic neighborhoods? We may have a sense of how the process played out in large urban environments like New York City – driven by figures like Robert Moses – but what about in other cities, such as those farther up the Hudson River Valley?
The New York Preservation Archive Project is pleased to have presented a screening of The Lost Rondout: A Story of Urban Removal. In the late 1960s, most of the historic downtown Rondout district of Kingston, New York was demolished in a federally-funded urban renewal project, displacing thousands of people. This new 69-minute documentary film was completed in October 2016 and was produced and directed by Stephen Blauweiss and Lynn Woods. The film details the process of loss – but also the attempts at healing the urban landscape over time.
Filmmaker Lynn Wood was on hand to discuss and answer any questions.  Copies of the documentary were available for sale.
This program was FREE and open to the public. A special thanks to BronxArtSpace for hosting the event.
This year's People Preserving Place film festival was made possible in part by our gracious sponsors including City Winery, CTA Architects, K!ck Condiments, DZINENY and The Science of Color.
Location:
BronxArtSpace
305 E 140th St
Bronx, NY 10454
Google Maps