The Stewardship Society consists of our most devoted benefactors who annually contribute $500 or more. Our Stewards are honored with a series of unique tours of archival treasures at collections throughout New York City.
Because our work could not be done without our generous donors, the Stewardship Society was created to celebrate these supporters with a series of special tours at institutional archives and private collections throughout New York City. Since its launch in 2011, the Society has held private viewings of archival treasures at such locations as Carnegie Hall, the Explorers Club, the Park Avenue Armory, and the Grand Masonic Lodge of New York. We hope you will consider becoming a Steward of the New York Preservation Archive Project and thus a steward of the history of New York City's preservation movement. To join the Society, please donate via this page. Or please contact us with any questions.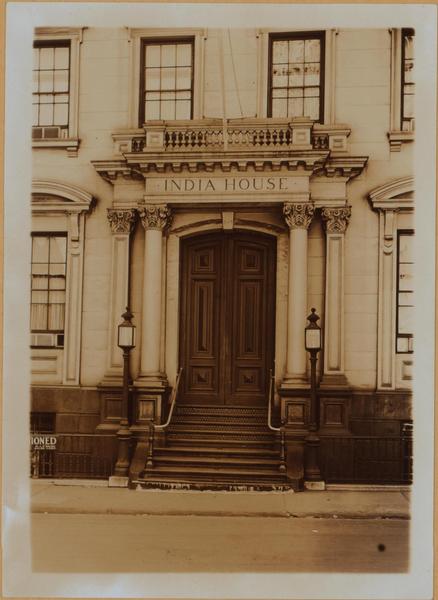 Latest Stewardship Society Event
Tour of the India House
Thursday October 18, 2018
For its latest tour, the Stewardship Society delved into the intriguing past of Lower Manhattan's India House while exploring lush interiors within its historic 19th century facades. The landmark building was constructed by Richard Carman after the fire of 1835 in the style of an Italian Renaissance palazzo. The Hanover Bank was the first to occupy the building overlooking Hanover Square. The edifice has remained almost unchanged since that date.
India House, as an organization, came into being in 1914, when a group of businessmen headed by James A. Farrell, then president of United States Steel Company, in collaboration with Willard Straight, decided to create a meeting place for the interests of foreign trade. India House acquired the historic lower Manhattan property in February of 1921, and has made a home there ever since.
During the tour, members of NYPAP's Stewardship Society learned about the history of a great New York City institution, including its archives, artwork and elegantly-appointed members-only spaces. Members of India House joined the tour, and the club curator accompanied the group as they viewed key works of art and artifacts. 
Following the tour, the group adjourned to India House's Blue Bar for cocktails.
Interested in joining the Stewardship Society and taking part in exciting events such as these? For more information on membership, contact Brad Vogel at 212-988-8379 or bvogel@nypap.org.