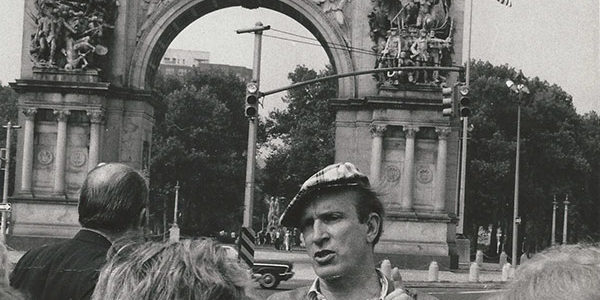 October 14, 2014
Article from the Fall 2014 Newsletter
The Archive Project was recently called upon to help find a permanent archival home for a carton of documents from the Fund for Architecture and the Environment (FAE). Included within were materials such as incorporation papers, minutes, dissolution papers, and other organizational documents. FAE was established in 1984 when Suzanne Davis, executive director of the J.M. Kaplan Fund at the time, became aware of situations in which preservation-related organizations needed to obtain funds quickly but did not have 501(c)(3) status, which would allow donors to receive deductions for federal income tax purposes. In response to this problem the FAE was organized under the auspices of the Cultural Council Foundation, which had a 501(c)(3) designation and could also provide smaller groups with administrative support. From the outset, however, the FAE faced a number of challenges. Many of the projects it supported were small in scale but labor intensive, such as applications for landmark designation. Also, some donors wished to give stock, which raised tax and bookkeeping issues. Other tax questions were raised by projects that, for example, supported legislation could be deemed ineligible for tax exemption.  These and other issues saddled FAE with a heavy administrative burden.
What ultimately proved fatal for FAE was a policy issue. Prominent among FAE's clients were private, non-charitable membership organizations. One of these, the Knickerbocker Club, received Landmarks Preservation Commission approval for an exterior renovation. Members of the Club wanted to support the renovation project through tax-deductible donations to FAE, but FAE's legal counsel advised that the IRS had issued a "private ruling" in a similar instance involving a fraternity, holding that donations by members to private, members-only institutions could not be deductible. The FAE board decided not to accept such projects in the future. In May 1992 the FAE board decided, "enough other vehicles are available to serve our present and potential clients, and…we want to wind down our activities." The board voted to dissolve in October of 1992, and dissolution became effective in February of 1993.
Although the FAE existed for less than eleven years, it was involved in many significant matters concerning the preservation of historic structures, monuments, and landscapes, as well as raising awareness of preservation issues and architectural heritage. Among these were: opposing the sale of  St. Bartholomew's Church Parish House and its replacement with a high-rise office tower; a study of the East River waterfront; preservation of the Ladies' Mile district; and the establishment of the Beaux Arts Society.
A detailed history of FAE was laid out within these documents; to have lost them would have been equivalent to losing a substantial record of this significant preservation organization. Luckily the current staff of the J.M. Kaplan Fund stepped in to provide a repository for the carton of materials. The thoughtful process undertaken by these staff members and several former board members of FAE was integral in securing a home for the important papers of this short-lived organization. Others involved in similar organizations, volunteer groups, or grassroots projects that have ceased to exist should recognize the potential importance of such records to the history of preservation and consider their eventual placement. If you have any questions about the process involved with securing a permanent repository for your records, please contact the Archive Project at info@nypap.org.  
The papers of two prominent individuals in the history of preservation in New York City—architect and former executive director of the Landmarks Preservation Commission Alan Burnham (1913-1984) and architecture critic and advocate Henry Hope Reed (1915-2013)—have recently been made available to researchers by Columbia University's Avery Architectural and Fine Arts Library. Though they had very different public roles and personas, both Burnham and Reed were careful architectural historians whose research and advocacy were significant in building the case for preservation.
Alan Burnham served as the executive director of the Landmarks Preservation Commission (LPC) from 1966 to 1973, after which he became its director of research. Prior to joining the LPC, Burnham worked as an architect at a firm specializing in churches, where he was responsible for the restoration of the Church of Our Lady of the Rosary (known for its shrine to St. Elizabeth Ann Seton). [where is this?}He also served on the Municipal Art Society's Committee on Historic Architecture, eventually becoming its chair.
Although he worked as an architect and an administrator, Burnham was an architectural historian at heart. The Alan Burnham Papers at Avery Library contain a lifetime of notes, clippings, manuscripts, and other materials that Burnham collected and organized on the architectural history of New York City and beyond. Burnham's personal collection, known as the American Architectural Archive, supported a number of research projects, notably his New York Landmarks: A Study & Index of Architecturally Notable Structures in Greater New York, published in 1963. In later years his archive became a resource of some renown and was consulted by other scholars. Burnham papers also contain material from his activities at the LPC and MAS and the research he conducted for architectural and preservation groups such as the American Institute of Architects and the Friends of Cast-Iron Architecture.  Additionally, the Richard Morris Hunt Family Papers, a part of the Burnham papers, contain numerous notes and research materials Burnham collected on the famed architect, including an unpublished biography and a family scrapbook prepared by Hunt's wife, Catherine Howland Hunt. At the time of his death, Burnham was planning to use these materials to write his own biography of Hunt.
The Burnham papers and the American Architectural Archive were preserved after Burnham's death by Gordon McCollum, a real estate executive with an encyclopedic knowledge of New York City history and architecture. McCollum died in 2000, and the papers were donated to Avery in McCollum's honor by Andrea Anson and Jeffrey N. Lew. 
Another remarkable New Yorker, Henry Hope Reed, was an iconoclastic author and architecture critic who pioneered the architectural walking tour in the 1950s and was a dogged champion of the City's distinctive heritage of great buildings and parks. Reed railed against modernism and argued for a return to classical principles of architectural design and decoration. He published incisive studies of historic architecture and rallied public opinion to his side with numerous books, articles, and walking tours celebrating historic buildings and landscapes.
In 1955, Reed began to organize exhibitions on historic architecture, and a year later he began leading the Municipal Art Society's first architectural walking tours. At the time, Reed was also working with preservationists in Brooklyn Heights to promote legal protections for historic buildings. In the 1960s, Reed's research and advocacy helped lay the groundwork for the restoration of Central Park; he was named the park's official curator in 1966.
The Henry Hope Reed Papers, contributed to Avery by Reed and his family members, contain extensive research materials that Reed accumulated when writing his books and articles and crafting his walking tours, including guide notes on sites and neighborhoods. The papers also contain notes, drafts, and other materials that Reed collected for his writings, lectures, exhibitions, and presentations, and files relating to his Central Park curatorship. Also included are Reed's research files on classical architecture and his files relating to Classical America, the organization he cofounded that later became the Institute of Classical Architecture & Art.