Programs, Tours, and Conferences
Columns Club Tour
In February, the Archive Project's Columns Club toured the Grand Masonic Lodge in Chelsea courtesy of member Alex Vastola who serves as librarian of the Lodge's Livingston Masonic Library. In addition to experiencing the ostentatious ornamentation in various lodge rooms, members had an opportunity to view rare objects from the Library's collection, including an ornate trowel used at the 1880s dedication of Cleopatra's Needle in Central Park.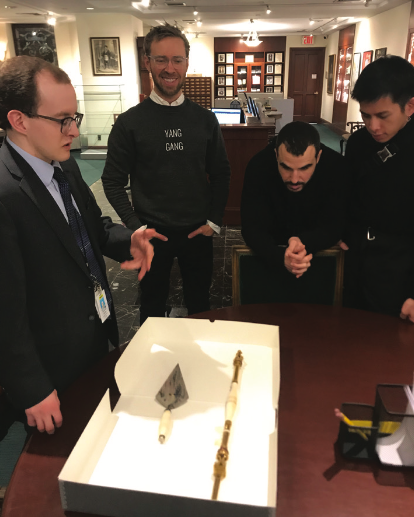 Alex Vastola, left, head of the Grand Masonic Lodge's Chancellor Robert R. Livingston Masonic Library, provides Columns Club members with context for artifacts from the Library's collection. Vastola previously served as a researcher for the Archive Project. | Courtesy the Archive Project
Chairman's Circle
Thee Archive Project's Chairman's Circle gathered at the Columbus Citizens Foundation in February for dinner and a program headed by Archive Project board members Lisa Ackerman and Michele Bogart. International heritage preservation issues and public art controversies dominated the evening's conversations.
NYC Landmarks 55 Alliance
Along with the Historic House Trust, the Archive Project hosted the NYC Landmarks 55 Alliance in February in the lead-up to the 55th anniversary of the signing of New York City's Landmarks Law (April 2020). Barbaralee Diamonstein-Spielvogel led those gathered at e Abyssinian Baptist Church in Harlem in a program with a focus on celebrating Black History Month. Special thanks to Archive Project board member John Reddick for facilitating the event.
Barbaralee Diamonstein-Spielvogel, center, at February's Alliance meeting at Abyssinian Baptist Church, has led the charge to celebrate the 55th anniversary of the NYC Landmarks Law in 2020. | Courtesy the Archive Project
HDC Conference
In early March, the Archive Project participated in the Preservation Conference sponsored by Historic Districts Council at John Jay College of Criminal Justice. Preservationists and historians from around the City gathered for a day of discussing relevant topics.