Ireland Native and City Island Resident Sarah Eccles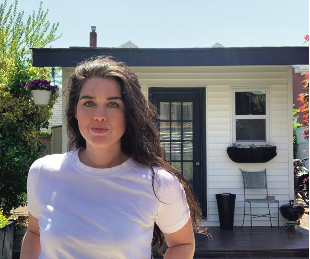 Sarah Eccles, 2020 Jeffe Fellow, at her home in City Island | Courtesy Sarah Eccles
I graduated from Fordham University in 2018 with a bachelor's degree in history. During my time at Fordham, my interest in preservation grew along with my devotion to history, and as a result I decided to pursue graduate studies in historic preservation. I am at present pursuing a master's degree in historic preservation at Pratt Institute.
History, especially American history, has always been a passion of mine. In my spare time, I love to read novels based on American history. Right now, I am immersed in Russell Shorto's new book, Revolution Song: A Story of American Freedom, which tells the story of the conflict through the documented lives of six people involved in the Revolutionary War.
My perspective on American history is enhanced by the fact that I grew up in the northwest of Ireland, where remnants of Irish history survive through its built fabric. As you walk in the countryside, viewing the stone walls separating the elds and the thatched roof cottages, you can feel the lives of the people who have gone before. Now, I live on City Island in the Bronx, where a similar tale of history can be told through local buildings and landmarks.
At Pratt we focus on value-based preservation, where we do not just look solely at historic buildings but also the communities and people within them, as does the Archive Project. We strive to take a closer look at the people behind the preservation movement— those who fought to save the City's heritage. One example that I think of is someone who is not always given her due, one of the many female driving forces behind the movement to save Greenwich Village: Verna Small.
The Archive Project has given me the opportunity to learn so much about preservation history. But my fellowship has consisted of more than research. Writing posts for our social media pages based on research ndings has been a major component of my work. I have been assisting with the NYPAP newsletter and with our website. e combination of tasks has been very helpful in learning to balance the love of research with core administrative work.
New York City is quite different to the northwest of Ireland, but both regions have many devoted preservationists who, in their respective ways, fight to preserve the history of those who came before them. This city has certainly increased my appreciation for preservation and history, something that has been greatly enhanced through my Pratt experience and through working at the Archive Project. I have just completed my first year in Pratt, but as I look forward to graduation I also look forward to the changing dynamic of the preservation world. It's increasingly one where people and communities are as important as buildings. Working at the Archive Project, with its mission to preserve the history of preservation and those who furthered the cause, has prepared me for this new realm. I am grateful to Elizabeth and Robert Jeffe for their generosity in making this experience possible for me.