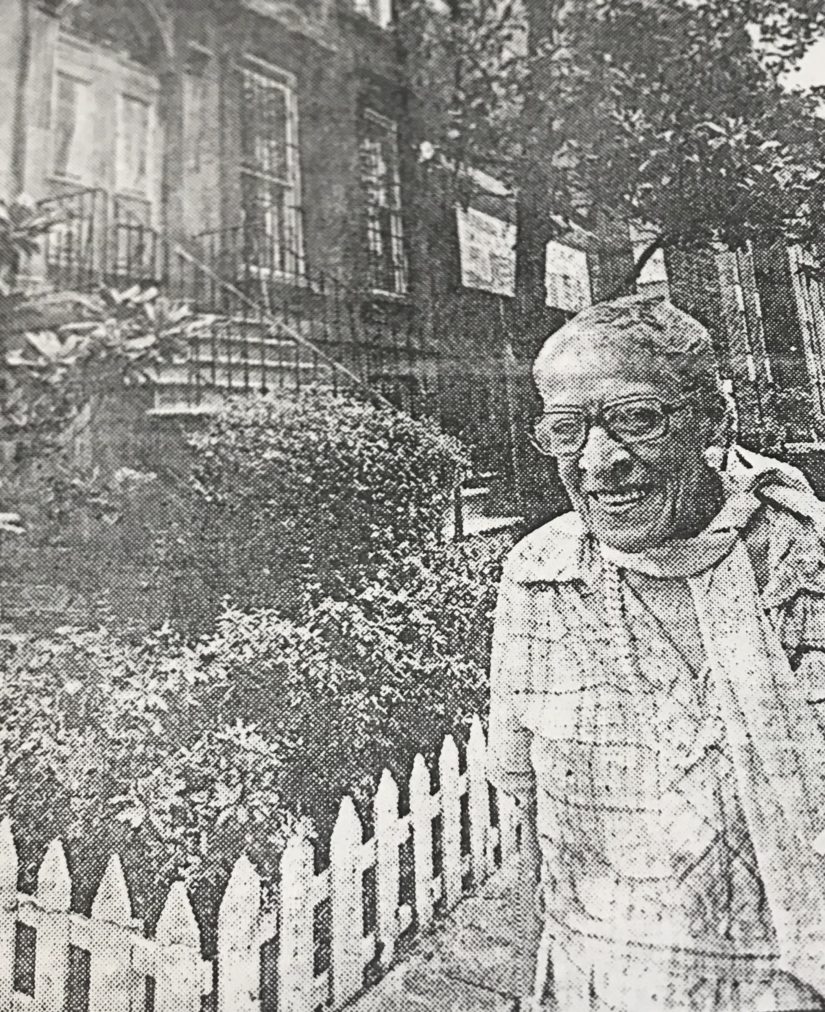 also known as The Tree Lady of Brooklyn
Hattie Carthan of Bedford-Stuyvesant led the campaign to designate the only tree, a magnolia grandiflora, that is an individual city landmark. …
Hattie Carthan of Bedford-Stuyvesant led the campaign to designate the only tree, a magnolia grandiflora, that is an individual city landmark. 
Hattie Carthan was born in September 1900 in Portsmouth, Virginia, and moved to Brooklyn, New York, in 1928. Beginning in 1964, Carthan led what would become a decades-long campaign to protect, preserve, and plant trees in the Bedford-Stuyvesant neighborhood in Brooklyn. Through this work, Carthan founded numerous environmental and community organizations that brought together issues of neighborhood beautification, urban ecology, and community empowerment. In 1975, Carthan was awarded a distinguished service medal from the city for her work to improve public parks and was elected to the governing committee of the Brooklyn Botanic Garden. She became known as The Tree Lady of Brooklyn. Carthan died in Bedford-Stuyvesant on April 22, 1984, at the age of 83.
Tompkins and Throop Block Association
Founder and Chair
Bedford-Stuyvesant Beautification Committee
Chair
Magnolia Tree Committee
Founder
Magnolia Tree Earth Center of Bedford Stuyvesant, Inc.
Founder
Involvement in Preservation Campaigns and Related Activities
Hattie Carthan was an environmental and community advocate who lived and organized in the Bedford-Stuyvesant neighborhood in Brooklyn. Her work focused primarily on planting and protecting trees, which she saw as a means for addressing issues of local economic development and neighborhood livability.2  Her success in mobilizing fellow community members and navigating the city's bureaucracy proved critical in her ability to marshal public support for, and advance, urban tree planting and preservation.3
Having moved to Bed-Stuy from Long Island in 1953, Carthan's advocacy for trees began in 1964 when she founded the Tompkins & Throop Block Association, raising money to plant trees on Vernon Avenue. In 1966, she invited newly-elected Mayor John Lindsey to the block association's annual barbeque fundraiser, earning from the mayor an unlikely but powerful endorsement that drew city-wide attention to the block association's cause and provided a platform for her visibility and influence in the community to rapidly grow. By the end of the decade, Carthan was presiding over one hundred block associations in Bed-Stuy, which she chaired under the umbrella Bedford-Stuyvesant Beautification Committee, and advising the New York City Parks Department on numerous city-wide tree planting programs. Under her leadership, the beautification committee planted more than 1,500 ginkgo, sycamore, and honey locust trees throughout Bed-Stuy.4
From 1968 to 1970, Carthan led a campaign to preserve an historic magnolia grandiflora tree at 679 Lafayette Avenue in Bed-Stuy. A species native to warmer, southern climates, this particular magnolia tree had been planted around 1855 by local resident William Lemken, persisting against the odds in the century that followed, its trunk and branches sheltered from prevailing winds and its roots warmed during the colder winter months by a row of adjacent brownstone buildings. With the brownstones slated for demolition to make way for an apartment complex and parking lot, Carthan lobbied the City Planning Commission, the Board of Estimate, and the local Community Board for permission to build a protective wall for the magnolia tree.5  Carthan formed the Magnolia Tree Committee to fundraise within the community and secured matching funds from the New York Horticultural Society, raising the $5,000 needed for construction.6  Her efforts to protect the magnolia culminated in the tree being designated an individual landmark by the Landmarks Commission7 – one of only two official "living" landmarks in New York City (the other being a weeping beech in Queens that has long since died). City-designated scenic landmarks, such as Prospect Park, contain trees, including famous trees like the Camperdown Elm, but today only the Magnolia Grandiflora of Bed-Stuy is individually designated as a landmark.  Carthan was cited in the tree's designation report as having been "The person who, almost single-handedly, has been responsible for arousing local appreciation of the tree and in directing this appreciation towards practical steps for its preservation."
When plans for the apartment complex and parking lot were scaled back soon thereafter, Carthan again approached the Board of Estimate, this time asking to purchase the adjacent brownstones from the city, which she hoped to renovate and transform into a community environmental education center. In 1976, Carthan secured sale of the brownstones for $1,200 – reduced from the Board of Estimate's initial offer of $25,000 – and, in the final decade of her life, opened and operated the Magnolia Tree Earth Center of Bedford-Stuyvesant. Today, the organization operates under non-profit status as a community and horticultural center that serves both Bed-Stuy and broader Brooklyn with hands-on gardening opportunities, food justice workshops, and a community market.8
"We've already lost too many trees, houses and people…your community – you owe something to it. I didn't care to run." – Hattie Carthan
Archives, Personal Files, Ephemera
Brooklyn Collection
Brooklyn Public Library
10 Grand Army Plaza
Brooklyn, NY 11238
bcref@bklynlibrary.org
 "12 Receive Awards for Parks Services," New York Times, May 25, 1975; and Mary Kelly, "A 'Magnolia Tree Earth Center' Grows in Brooklyn," Christian Science Monitor, June 25, 1975, page 19.

Mark Francis, Lisa, Cashdan, and Lynn Paxson, Community Open Spaces: Greening Neighborhoods Through Community Action and Land Conservation (Washington, DC: Island Press, 1984), page 145.

Marci Reaven and Steven J. Zeitlin, Hidden New York: A Guide to Places That Matter (New Brunswick, N.J.: Rivergate Books, 2006), pages 268-69.

Fred Ferretti, "Urban Conservation: A One-Woman Effort," New York Times, July 8, 1982.

Ibid.

Edwin B. Lake, "A Magnolia Tree Grows in Brooklyn With Help from the 'Tree Lady,'" New York Times, July 24, 1977; and Kim Len, "Youths Working to Save Trees," New York Times, August 17, 1975.

Marci Reaven and Steven J. Zeitlin,

Hidden New York: A Guide to Places That Matter

(New Brunswick, N.J.: Rivergate Books, 2006), page 270.

"Hattie Carthan Community Farmer's Market," accessed November 24, 2019, https://www.hattiecarthancommunitymarket.com/.