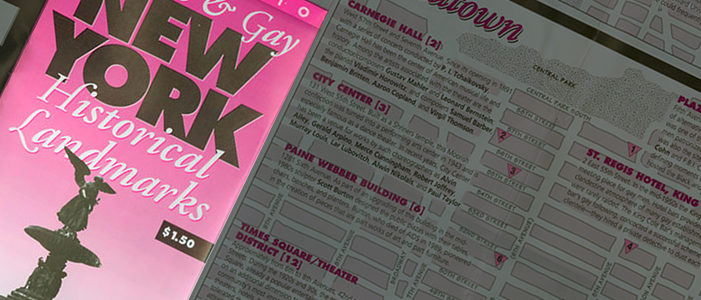 Roots of LGBTQ Historic Preservation
June 21, 2019
7:00 pm - 8:30pm
Bureau of General Services—Queer Division
Join the New York Preservation Archive Project (NYPAP) for a deep dive into how historic sites in New York City first began to be recognized for their LGBTQ significance. The evening will feature brand new clips from oral history interviews with leading preservationists as well as opportunities for audience discussion.
Twenty-five years ago local activists and preservationists set out to put LGBTQ history on the map. In 1994 REPOHistory's Queer Spaces project placed temporary history markers on nine sites in Manhattan, The Organization of Lesbian and Gay Architects & Designers (OLGAD) published the first map of LGBTQ historic sites in Manhattan, and a first attempt was made to nominate Stonewall for the National Register of Historic Places. As we mark the celebration of Stonewall 50, there have been many gains and losses in the movement to preserve and recognize local LGBTQ landmarks. Understanding this history that led to the current moment will strengthen the preservation movement for the work ahead.
Oral histories featured at this event have been recorded through NYPAP's ongoing oral history project on NYC's LGBTQ historic preservation, funded in part by New York State Council on the Arts and Thompson Hine LLP. All the oral histories we collect are freely available to the public, so that future preservationists can benefit from the experiences captured. View NYPAP's full oral history collection at www.nypap.org/oral-history.
Location:
Bureau of General Services—Queer Division
208 West 13th Street, Room 210
New York, NY 10011
Attend Event